A talk show celebrating the 150th Anniversary of Salmoiraghi & Viganò
OneVision in charge for the shooting and for the audio and lighting service of the event
Tue, 05/24/2016 - 17:01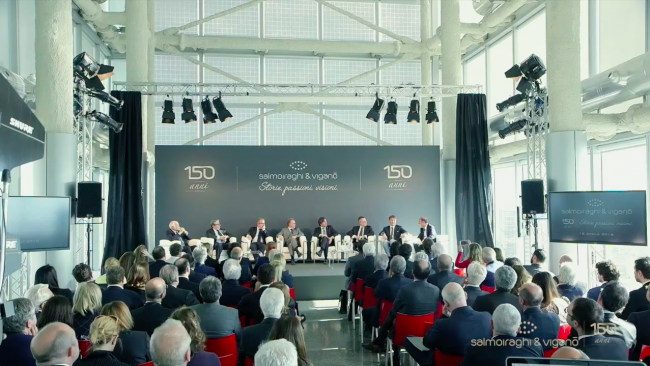 On the 18th of April 2016, the OneVision team has deserted the office to get into action: the mission consisted in capturing on video the presentation of the book dedicated to the 150th years of Salmoiraghi & Viganò, the Italian leading company in Eyeglasses and optical goods retail.
Fully equipped with cameras, lights and microphones, our video operators have filmed the Italian anchor man Bruno Vespa, conducting a lively talk show involving prestigious guests: Dino Tabacchi, President of Salmoiraghi & Viganò, Roberto Maroni, President of the Lombardy Region, and his vice Fabrizio Sala.
Besides taking care of the shooting and the post production of the entire video and of the extract for the regional TV, during this exclusive occasion OneVision has also organized the audio and lighting service, setting up a stage with a maxi screen and two side monitors for the projection of the video dedicated to the story of the company.
You can watch the video of the event on the website dedicated to the 150th anniversary of Salmoiraghi & Viganò:
http://150anni.salmoiraghievigano.it/libro-150-anni/