Translation and localization? Not the same thing!
This is how OneVision deals with video localization
Wed, 06/03/2015 - 10:22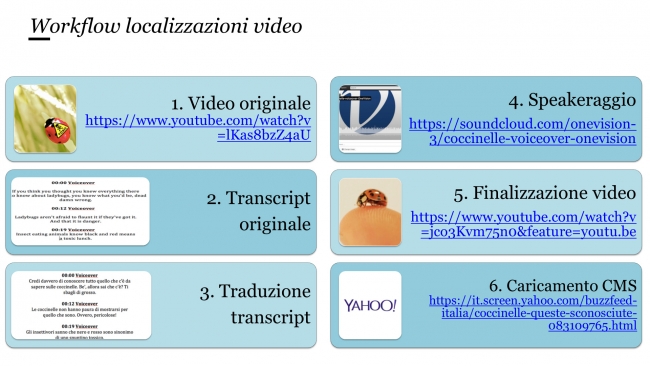 Our motto, "OneVision, different views", reflects in the way we treat your video localization. Are you ready to find out the secret ingredient of our work?
The first step, even before starting the actual localization, is a detailed analysis of your video. We watch it again and again, from every point of view and perspective, in order to perceive its different shades and keep them unchanged in the language in which we will produce the new version of the video.
It is only at this point that we start working on the original transcript, in order to be well prepared for the translation, which, as for our daily commitment, it's not just a literal translation, word for word, but a localization: that's our "different views", arising from the peculiarities and even colloquial expressions of each language.
After carefully reviewing the text, inserting also a detailed playing time, we give the floor to our professional speakers, who will skillfully interpret the transcript, with the same tone of voice of the original video.
Parallel to the work on the voiceover, our graphics department takes care to place signs, captions or words superimposed, with the utmost respect of your video and using the same fonts of the original version.
But our commitment doesn't end here! The processed video, matched with the audio mixed by our audio production, is checked until we are absolutely sure of the final result: your satisfaction is our priority.
Finally, we deal with the upload of the video on your web platforms, using eye-catching thumbnails, as well as SEO friendly titles and descriptions.
What are you waiting for, put us to the test!